We might as well ask whether cars are faster than motorcycles. The only way to know for sure would be to compare the two on track. In fact, we will do just that in our attempt to find out if Formula One vehicles are faster than two-wheelers of MotoGP. For simplicity, we will be looking at F1 cars and MotoGP bikes in their most powerful categories.
F1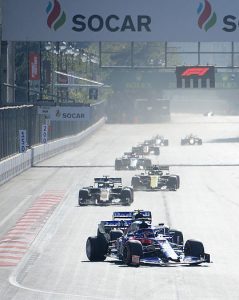 Formula 1 cars are the fastest in the world if you don't count some of the dragsters, as we are trying to find out who can complete a track in less time. Let's examine what Formula One cars have to deal with.
First of all, there is the weight. The minimum weight for a car is 1,631lbs, or 740 kilograms. That is the absolute lightest you can go. We don't have to tell you that there has to be a lot of power to move such a monster. Luckily the engines are pretty powerful. We are talking about V6 engines that hold 1.6 liters of fuel. They can put out about 1000hp.
Because of the power and the speed, air resistance becomes a problem. This is why Formula One cars are designed to get pushed down by the air to gain traction and, subsequently, pick up more speed.
MotoGP
It goes without saying that motorcycles are far lighter than the four-wheeled speed demons we talked about earlier. The minimum weight for a bike with 1000cc is 346lbs 157 kilograms. For the 800cc engines, its 330lbs, or 150kg. The power they produce is about 260bhp. Unlike cars, the bikes have to tilt to cut corners and they deal with the air resistance by trying to dodge it vertically. The riders position themselves so that they with their bike make a sort of a bullet.
So, the bikes weigh less, but also produce less power. Does that mean that they are automatically slower? Or do the bikes have some special secret to winning this challenge?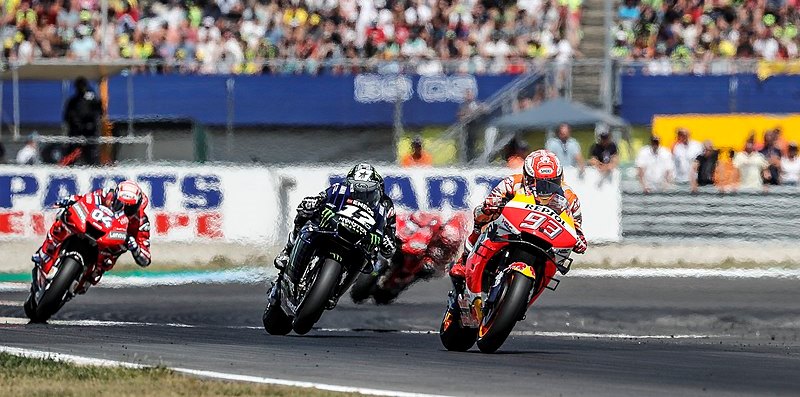 The Winner: Formula One
While MotoGP bikes have amazing acceleration, the electronics and the usage of air resistance make F1 cars the winner of this comparison. In 2018, the fastest lap by an F1 car on COTA was achieved by Lewis Hamilton – 1′ 32.237. Marc Márquez, during the same year and on the same track, had the fastest lap of 2′ 03.658. The lap times speak for themselves.
The bikes could have a ghost of a chance on a straight and short track due to their acceleration because F1 cars really shine when they get going, especially with higher speeds and on corners. The debate is settled, at least until the new generation of vehicles brings its own set of regulations.