It doesn't matter whether we are riders, fans, or people who simply like to bet on motorcycle races using the Betin promo code – we all enjoy the thrill of seeing our favorite rider overtake their opponent on the corner while their knee is at the brink of touching the pavement. This sport has been even more popular in Poland, believe it or not, and you can read more about their exciting racing on https://portalplock.pl/pl/11_wiadomosci/13753_koniec_sezonu_zuzlowego_2016.html There are many different types of motorcycle races, and we are going to cover a few of them. We will try to do our best to do each type justice, but we might have to go into details in another post.
Enduro and Cross-Country Races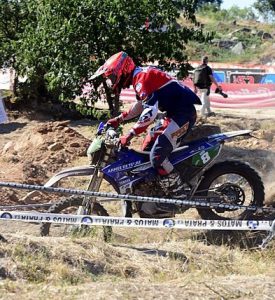 These off-road races are not so much about speed as they are about endurance. In Enduro, racers are expected to complete a lap that is over 10 miles long. To make matters more interesting, the course is divided into stages where each stage needs to be completed in a certain amount of time. You might think that the goal is to be super-quick then, but that's wrong. There are penalties for not only coming in late but coming in too early as well.
Cross-Country races are longer than their Enduro counterparts. The riders have enormous bikes and races can go on for days and even weeks, as the racers make their way through the open off-road track.
Last, but not least, we have Hare Scramble. Like others in this section, the races are off-road, though they can be on the open road or inside a wooded area. The goal is not to go through the finish line first, but to have the highest average speed on the course.
Motocross
Motocross races are road races that go off-road. You can expect to see mud, dirt, or sand as the predominate terrain. There are two types of motocross races that deserve further explanation. Supercross is the type of race that happens indoors and most likely features a lot of difficult jumps. Supermoto combines road racing with motocross and can have various stages.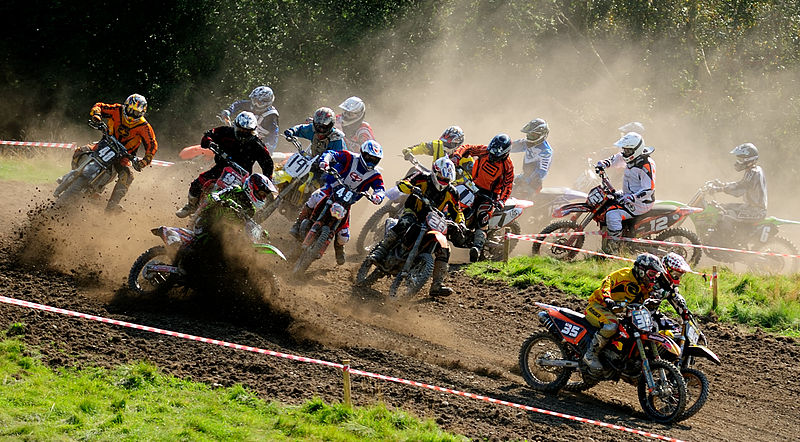 Road racing
Road racing is a popular and extensive category that deserves its own post, but we'll have to make due for now. There is traditional road racing, where most races are conducted on public roads. Motorcycle Grand Prix involves machines that are prototypes and is divided into MotoGP, Moto2, and Moto3. Superbike racing features bikes with a lot of power with engines of, roughly 1000 cc. Supersport racing bikes are weaker, but they are modified production motorcycles. There are even categories like endurance racing and sidecar racing.
Track Racing
Another category that we hope to cover in a separate post in the future, track racing features competitions on an oval track. Depending on the size and the terrain type, we can distinguish between several sub-categories. Speedway racing features bikes with a single gear and no brakes on a dirt track. Grasstrack, as the name suggests, is on grass, whereas ice speedway is extremely difficult due to the fact that it is easy to lose control of your vehicle on ice. Board tracks are made of wooden boards.